From: Competing Human Rights
Employer distributing Bibles and religious advice
Here is an example of a Code right (creed) versus a Charter right (freedom of religion and expression).
encourages them to attend church meetings, gives each a Bible as a gift for Christmas and asks them if they share his opinions on a variety of matters. Employees have made it clear that they do not welcome or appreciate his comments and conduct in their workplace and that they plan to file a claim under the Ontario Human Rights Code. This could be argued as a competing rights situation because:
From: Competing Human Rights
Muslim barber and woman denied service
Read the following excerpt from a news clipping about a competing rights case. This is an example involving two Code grounds – creed versus sex. When you're finished reading, answer the questions at the bottom of the page.
You can also watch this CTV news video about the case.
From: Competing Human Rights
Visual fire alarms and epilepsy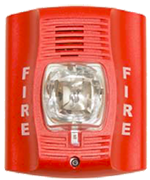 Jan, a building manager, is updating the fire alarm system in his building. He installs audible alarms. He plans to also install visual alarms, to accommodate a resident who is deaf. A strobe light would be set off when fire alarms are activated, which alerts people with hearing impairments.
From: Competing Human Rights
Competing rights at the office
This example involves two Code rights, both on the ground of disability.