From: Competing Human Rights
Temporary sukkah hut on condo balcony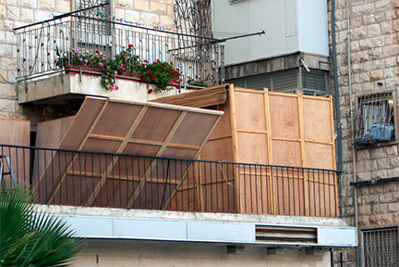 Here is an example of a Code right (creed) versus a common law right (right to peaceful enjoyment of property).
In this example, a Jewish family is asked to remove a sukkah hut that they placed on their condominium balcony for religious celebration. The sukkah hut would normally stay up for nine days.
From: Competing Human Rights
Niqab case
Read the following news clipping about a recent competing rights case. This is an example of Charter rights (creed and sex) versus another Charter right (right to a fair trial).
You can also watch a short CTV News video about the case.
---
CTVNews.ca Staff
Published Thursday, Dec. 20, 2012
These videos were created in response to the Syrian refugee crisis. They can help all newcomers, support agencies and the public. The videos are also available with Arabic subtitles.
From: Human rights and newcomers
From: Human rights and newcomers
From: Human rights and newcomers
30-minute interactive eCourse offers a foundation for learning about race, racial discrimination and human rights protections under Ontario's Human Rights Code.
From: Human Rights 101
If you would like a certificate of completion, please make sure you select the "Flash" tab.
Employers have a duty to accommodate an employee's creed to the point of undue hardship, including by providing time off for religious holidays.
English
Toronto - The OHRC provides tools and approaches that individuals, organizations and sectors across Ontario can use in their own efforts to advance human rights. A new reference guide, Anti-racism, Anti-discrimination for Municipalities, offers tips and templates municipalities can apply to their work.
Pages