From: Competing Human Rights
Temporary sukkah hut on condo balcony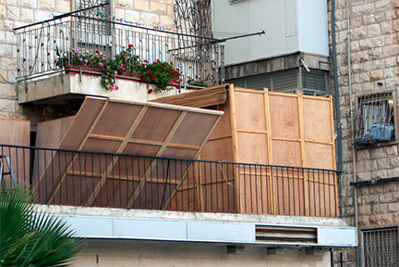 Here is an example of a Code right (creed) versus a common law right (right to peaceful enjoyment of property).
In this example, a Jewish family is asked to remove a sukkah hut that they placed on their condominium balcony for religious celebration. The sukkah hut would normally stay up for nine days.
Webinar Information
Q&A on the duty to accommodate
March 18, 2014 at 11:00 am
60 minutes
Accommodation rights and responsibilities under the Ontario Human Rights Code.
English
The Commission intervened in Sarnia (City) v. River City Vineyard, an appeal heard by the Court of Appeal for Ontario in October 2014.
Recent media articles have looked at the issue of housing that is limited to people belonging to a certain community group.
Section 18 of Ontario's Human Rights Code says:
Toronto - The OHRC provides tools and approaches that individuals, organizations and sectors across Ontario can use in their own efforts to advance human rights. A new reference guide, Anti-racism, Anti-discrimination for Municipalities, offers tips and templates municipalities can apply to their work.
Toronto - The City of Vaughan, the Canadian Race Relations Foundation (CRRF) and the Ontario Human Rights Commission (OHRC) are pleased to announce an important forum that will focus on "Mobilizing Municipalities to Address Racism and Discrimination". This partnership brings together municipal officials, community representatives, universities and the non-profit sector. Together, they have created an introductory manual for municipalities to confront racism and discrimination.
Toronto - Chief Commissioner Barbara Hall today released the Ontario Human Rights Commission's 2010-2011 Annual Report.
Toronto – As part of its ongoing work with community partners in the area of human rights and housing, the Commission announced today that it has written to media and housing websites to ask them for help in addressing discriminatory housing advertisements. Barbara Hall, Chief Commissioner, commented that, "Over the years, we have heard many stories of discrimination in rental housing. That some people are still facing discrimination right at the very start of their search for housing is unacceptable."
Toronto – Marking International Human Rights Day, the Ontario Human Rights Commission (OHRC) today launches Rental Housing e-learning at an event hosted by the York Centre for Human Rights. This second in a series of e-learning courses provides online learning and training for everyone who needs information on human rights issues that come up in rental housing.
Pages