From: Competing Human Rights
Temporary sukkah hut on condo balcony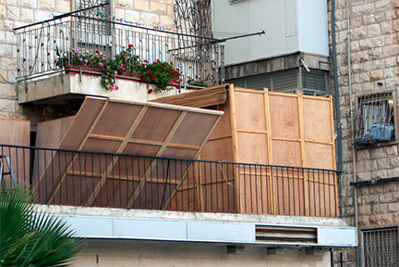 Here is an example of a Code right (creed) versus a common law right (right to peaceful enjoyment of property).
In this example, a Jewish family is asked to remove a sukkah hut that they placed on their condominium balcony for religious celebration. The sukkah hut would normally stay up for nine days.
Webinar Information
Q&A on the duty to accommodate
March 18, 2014 at 11:00 am
60 minutes
Accommodation rights and responsibilities under the Ontario Human Rights Code.
English
From: Guide to your rights and responsibilities under the Human Rights Code
Every person has the right to equal treatment in employment without discrimination based on Code grounds. In Ontario, about three-quarters of all human rights claims come from the workplace.
Employment is used in a very general way in the Code. Employees, independent contractors[7] and volunteers are covered.
The Commission intervened in Sarnia (City) v. River City Vineyard, an appeal heard by the Court of Appeal for Ontario in October 2014.
Recent media articles have looked at the issue of housing that is limited to people belonging to a certain community group.
Section 18 of Ontario's Human Rights Code says:
Toronto - The OHRC provides tools and approaches that individuals, organizations and sectors across Ontario can use in their own efforts to advance human rights. A new reference guide, Anti-racism, Anti-discrimination for Municipalities, offers tips and templates municipalities can apply to their work.
Toronto - The City of Vaughan, the Canadian Race Relations Foundation (CRRF) and the Ontario Human Rights Commission (OHRC) are pleased to announce an important forum that will focus on "Mobilizing Municipalities to Address Racism and Discrimination". This partnership brings together municipal officials, community representatives, universities and the non-profit sector. Together, they have created an introductory manual for municipalities to confront racism and discrimination.
On May 14, 2010, Ontario's Divisional Court issued a decision on a case called Ontario Human Rights Commission v. Christian Horizons. The Divisional Court's ruling was on the appeal of a 2008 decision made by the Human Rights Tribunal of Ontario. In that decision, the Tribunal found that Christian Horizons infringed the rights of an employee who was in a same sex relationship.
From: Policy on creed and the accommodation of religious observances
The Code provides the right to be free from discrimination, and there is a general corresponding duty to protect the right: the "duty to accommodate." The duty arises when a person's religious beliefs conflict with a requirement, qualification or practice. The Code imposes a duty to accommodate based on the needs of the group of which the person making the request is a member. Accommodation may modify a rule or make an exception to all or part of it for the person requesting accommodation.
Pages