From: Competing Human Rights
Temporary sukkah hut on condo balcony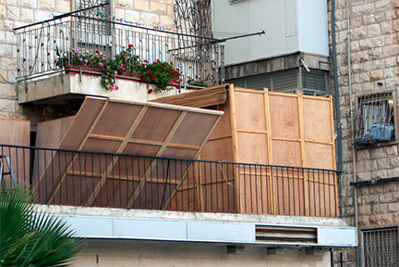 Here is an example of a Code right (creed) versus a common law right (right to peaceful enjoyment of property).
In this example, a Jewish family is asked to remove a sukkah hut that they placed on their condominium balcony for religious celebration. The sukkah hut would normally stay up for nine days.
The Windsor Police Service (Service) and the Windsor Police Services Board (Board) for many years have been open to the concerns brought forward by various ethno-racial, cultural and faith organizations and communities. The Board and Service responded with Service-wide change initiatives aimed at protecting and promoting human rights and equity, including the development of a Diversity Statement in August, 2004.
In view of these factors, the Board and Service approached the OHRC proposing a project charter modeled after the Toronto project charter.
Tarek Fatah is wrong to suggest I or anyone else "forced" Toronto Police to allow Khalsa Sikhs to wear kirpans in courtrooms. Acting Deputy Chief Jeff McGuire said the police were "pleased to have worked cooperatively to arrive at a procedure which recognizes the needs and rights of the Sikh community and the obligation to provide a safe, secure and accessible courthouse environment."
From: Competing Human Rights
Muslim barber and woman denied service
Read the following excerpt from a news clipping about a competing rights case. This is an example involving two Code grounds – creed versus sex. When you're finished reading, answer the questions at the bottom of the page.
You can also watch this CTV news video about the case.
From: Competing Human Rights
Niqab case
Read the following news clipping about a recent competing rights case. This is an example of Charter rights (creed and sex) versus another Charter right (right to a fair trial).
You can also watch a short CTV News video about the case.
---
CTVNews.ca Staff
Published Thursday, Dec. 20, 2012
Editor, The Toronto Star
This week Mark Saunders was sworn in as Chief of the Toronto Police Service. He arrived amid a controversy that marred his predecessor's final days and one that refuses to go away – the police procedure commonly known as "carding." As Chief Saunders starts down this new road he has a choice – to hear the voices of the community and work to end racial profiling or to allow a deeply troubling practice to continue.
From: Competing Human Rights
On this 45th anniversary of the Ontario Human Rights Code, I am pleased to present the fourth edition of Human Rights Policy in Ontario, a publication first introduced in 1998. I am also pleased that Carswell, a respected publisher of employment and human rights related material, is our partner in putting together this latest compendium of the Ontario Human Rights Commission's policies and guidelines.
2012 - The Ontario Human Rights Code (the Code) provides for equal rights and opportunities, and freedom from discrimination. The Code recognizes the dignity and worth of every person in Ontario. It applies to the areas of employment, housing, facilities and services, contracts, and membership in unions, trade or vocational associations. Under the Code, every person has the right to be free from racial discrimination and harassment.
Ontario's Human Rights Code is Ontario's highest law. All schools, including public, Catholic and private, have a legal duty to provide students with an educational environment free from harassment and other forms of discrimination because of their race, ancestry, place of origin, colour, ethnic origin, citizenship, creed, sexual orientation, age, marital status, family status or disability and sex including gender identity. Bullying is a form of harassment within the meaning of the Code.
Pages