From: Competing Human Rights
Temporary sukkah hut on condo balcony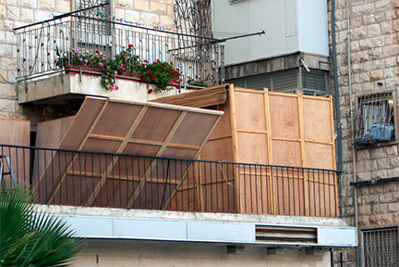 Here is an example of a Code right (creed) versus a common law right (right to peaceful enjoyment of property).
In this example, a Jewish family is asked to remove a sukkah hut that they placed on their condominium balcony for religious celebration. The sukkah hut would normally stay up for nine days.
This document explains the legal backdrop for the Commission's Policy Framework. It is divided into two main sections. The first provides an overview and summary of key legal principles from some significant legal decisions. This section aims to help readers understand the relevant legal background when seeking to conciliate or otherwise reconcile competing rights claims. The second part of the document surveys the leading cases that deal with competing rights. It also provides examples of situations where the leading cases, and the key principles from them, have been applied by courts and tribunals. It is divided by the types of rights conflicts that most commonly arise. The cases are discussed in some detail as the specific factual context of each case is so important to the rights reconciliation process.