From: Competing Human Rights
Employer distributing Bibles and religious advice
Here is an example of a Code right (creed) versus a Charter right (freedom of religion and expression).
encourages them to attend church meetings, gives each a Bible as a gift for Christmas and asks them if they share his opinions on a variety of matters. Employees have made it clear that they do not welcome or appreciate his comments and conduct in their workplace and that they plan to file a claim under the Ontario Human Rights Code. This could be argued as a competing rights situation because:
From: Competing Human Rights
Temporary sukkah hut on condo balcony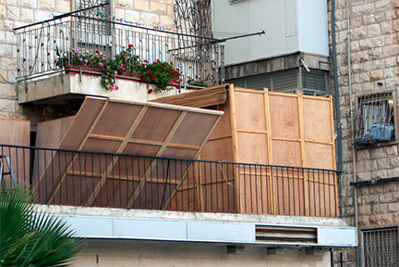 Here is an example of a Code right (creed) versus a common law right (right to peaceful enjoyment of property).
In this example, a Jewish family is asked to remove a sukkah hut that they placed on their condominium balcony for religious celebration. The sukkah hut would normally stay up for nine days.
From: Policy and guidelines on discrimination because of family status
The experience of discrimination based on family status may differ based on other aspects of a person's identity. Whenever an issue relating to family status is raised, it is important to take into account the intersecting impact of the person's sex, marital status, sexual orientation, race and age, as well as whether the person or his or her family member has a disability.
From: The cost of caring: Report on the consultation on discrimination on the basis of family status
Each individual's experience of his or her family status is profoundly influenced by other aspects of their identify, such as gender, sexual orientation, age, race, marital status, or disability: this was a major theme of the submissions the Commission received. For example, the experience of an aging parent of a child with a disability will differ from that of an Aboriginal single mother in search of housing. A heterosexual married mother seeking career advancement will experience different barriers than a lesbian couple dealing with their children's schooling.