From: Competing Human Rights
Employer distributing Bibles and religious advice
Here is an example of a Code right (creed) versus a Charter right (freedom of religion and expression).
encourages them to attend church meetings, gives each a Bible as a gift for Christmas and asks them if they share his opinions on a variety of matters. Employees have made it clear that they do not welcome or appreciate his comments and conduct in their workplace and that they plan to file a claim under the Ontario Human Rights Code. This could be argued as a competing rights situation because:
Webinar Information
Q&A on the duty to accommodate
March 18, 2014 at 11:00 am
60 minutes
Accommodation rights and responsibilities under the Ontario Human Rights Code.
English
The OHRC sought leave to intervene in an appeal of the Federal Court's decision to strike down a policy banning citizenship candidates from wearing face coverings during the citizenship oath.
From: Competing Human Rights
Temporary sukkah hut on condo balcony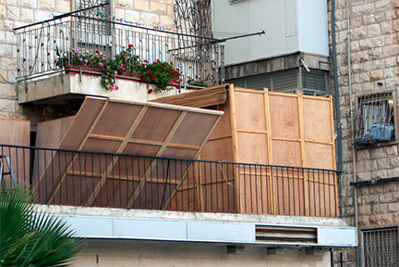 Here is an example of a Code right (creed) versus a common law right (right to peaceful enjoyment of property).
In this example, a Jewish family is asked to remove a sukkah hut that they placed on their condominium balcony for religious celebration. The sukkah hut would normally stay up for nine days.
August 2011 - The Human Rights Project aims to provide time limited support to MCSCS in its ongoing initiatives aimed at identifying and eliminating any possible discrimination in the employment of MCSCS employees and in the delivery of services by MCSCS. This Project Charter details the agreed upon relationship to be established between the three parties to fulfill these aims.
Introduction to human rights and responsibilities under the Ontario Human Rights Code (revised 2014).
2012 - Racial harassment may be based on a combination of any of the above characteristics. It may also be because of things related to them, such as if you wear clothing related to your background, speak with an accent or practice a certain religion. It is against the law for anyone to harass you, insult you, or treat you unfairly for any of these reasons.
From: Competing Human Rights
Muslim barber and woman denied service
Read the following excerpt from a news clipping about a competing rights case. This is an example involving two Code grounds – creed versus sex. When you're finished reading, answer the questions at the bottom of the page.
You can also watch this CTV news video about the case.
Chief Paul Cook
President, Ontario Association of Chiefs of Police
Dear Chief Cook,
On behalf of the Ontario Human Rights Commission (OHRC), I would like to congratulate the Ontario Association of Chiefs of Police (OACP) for its updated version of the LEARN Guideline for Police Record Checks with a clearer presumption against disclosure of non-conviction records.
Editor, The Toronto Star
This week Mark Saunders was sworn in as Chief of the Toronto Police Service. He arrived amid a controversy that marred his predecessor's final days and one that refuses to go away – the police procedure commonly known as "carding." As Chief Saunders starts down this new road he has a choice – to hear the voices of the community and work to end racial profiling or to allow a deeply troubling practice to continue.
Pages